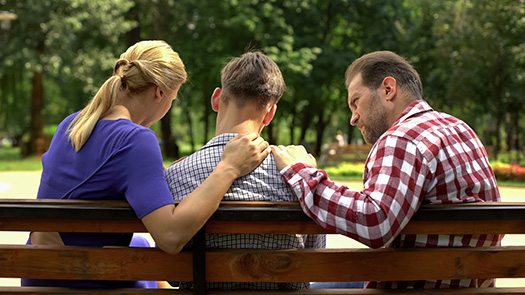 As a parent of a teenage daughter, Dr. Liz knows the challenges that parents face coping with their children. Parents must thoughtfully guide their child through the teenage years. The goal is to empower without enabling. Parents learn that they are not alone and that it is important to address the issue(s) that their teens have now, before it takes control of their lives.
---
The following are popular topics in Dr. Liz's Empower Parents Program:
Help Your Teen to Stand Up for Themselves
Bullying has and continues to be an issue for youth. Once a teen is identified as a target his/her life could be changed forever. As a result, many teens that fall victim to bullying have low self-esteem, affecting everything from their grades to participation in sports and the quality of their social life. This seminar provides parents with the tools and techniques to help their teen deal with bullies, manage their feelings, and stand up for themselves.
Is the "In-Crowd" the "Right Crowd" for Your Teen?
Every teen wants to be popular. Even so, being a member of the "in-crowd" could have consequences if your teen does not have the self-confidence to say "no." Parents will learn how to teach their teen to think independently and have the conviction to stand up for their own beliefs.
Living Online
Technology is an integral part of every teen's life. As a result, teens spend more time on computers, cell phones and other devices and less time socializing in person. Parents will learn how to encourage their teen to communicate more off-line, the real consequences of spending too much time online, and how to help their teen find a good balance between the two.
Take the Blinders Off
Smoking pot and teenage drinking is widespread. Equally alarming is the number of teens on opioids and other highly addictive drugs. Parents will learn how to recognize the signs of drug and alcohol abuse, as well as how to help their teen to live a sober life.
It's Their Life
Everyone needs a roadmap to determine where they are going and how they are going to get there. Establishing goals will ensure that teens realize their dreams. Participants will learn how to teach their children to develop smart goals that reflect their teen's life vision instead of their own.
Empower Your Teen
Growing up today is more challenging than ever. Teens need to develop the self-esteem to face their particular situation. They also need to be empowered to make their own choices and come to their own conclusions. This seminar will provide parents with guidance on how to mentor their children through the turbulent teenage years so they become confident adults. Participants will also learn how enabling can have a negative effect on their teen's ability to become self-reliant.
Seminars for Teens Seminars for Organizations Book Dr. Liz
‹ Back to Empowerment Programs
"There isn't a person anywhere who isn't capable of doing more than he thinks he can."
– Henry Ford